Welcome to the BartCam!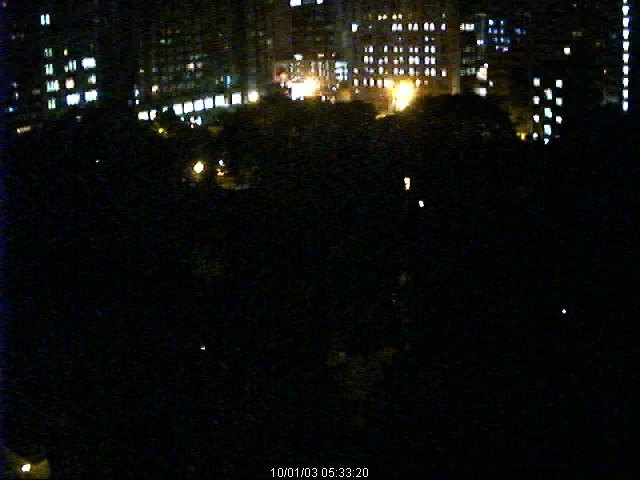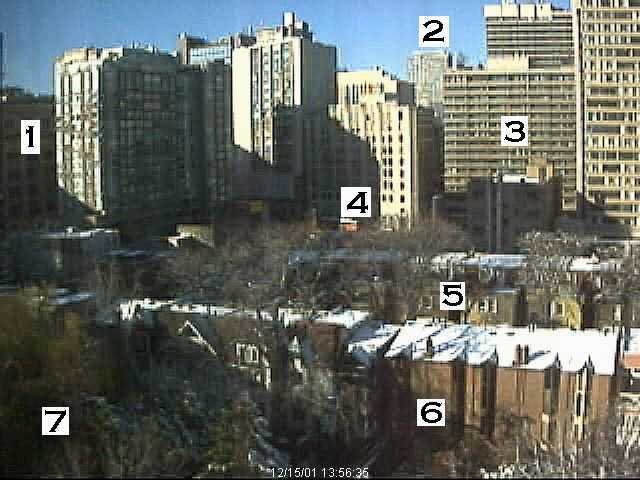 Legend
College Park. You cannot really see the street in front of it but it is Yonge Street, the longest street in the world (1896 km).
The Manulife Centre on a corner of Bloor Street and Yonge Street.
The street in front of this building is called Carlton Street. The world famous Maple Leaf Gardens is to the right of this building. The smaller building in front of it is at the other side (hence the South side) of Carlton Street.
Street car on Carlton Street.
Granby Street.
McGill Street. Although it is invisible here, McGill Street and Granby Street are conncected to each other by a small curved street: Sheard Street.
The trees in the garden around the building where my office is.
The camera looks North through the window of my office. The image is renewed every five minutes if the computer is online.

The webcam is a Logitech QuickCam Pro 3000. The reason? It was the only camera in the store that claimed a 'true' resolution of 640*480 pixels. It also has a focussing ring (manual, unfortunately). The foot that came with the camera, looks cute but is useless because it is far too light. On top of that, the USB-cable is too rigid and that makes it impossible to manipulate it without moving the camera. The camera came with a clamp. This clamp is also just about useless because of its 'creative' shape. I use it however to 'plant' the camera in a black mug from Second Cup. This works fine and camera remains relatively stable. Too bad I don't have my cast-iron stands and clamps anymore (the ones I used for my chemical experiments in the old days).

The camera is good enough. The software it came with is worthless. It is slow, even slower than most Microsoft software, and that's quite a feat. Therefore, I use Webcam32 until I find a better program or until write one myself.

Logitech suggests that you can use the camera to make movies with sound. That's true. However, as most people who know me, know, this is impossible to realize with USB, at least in 640*480 format, 24-bit colours, 30 images per second and quality audio. People in the business are supposed to know (but often don't) this is impossible. The public isn't and hence it is an easy prey for this type of less than honourable business practices. It isn't important to me as I use this camera only for the web. I'll use my digital videocamera if I need quality. This doesn't mean, however, that I approve this type of plainly dishonest business practices.

So my feelings regarding this logitech camera are mixed. The camera itself is definitely one of the best web cams I have ever seen. All the rest of its hardware and software isn't worth making nor should anyone have to pay for it.


---
Other webcam-sites:








---
Last updated on March 7th, 2002
© Bart B. Van Bockstaele 1996-2002 - All rights reserved